Packaging in different pouch sizes
You can select a pouch size from 5 different options that is right for the quantity of tablets to be included in a single dose.
This feature is especially useful for dispensing small quantity of medicines to minimize the unnecessary use of the consumables.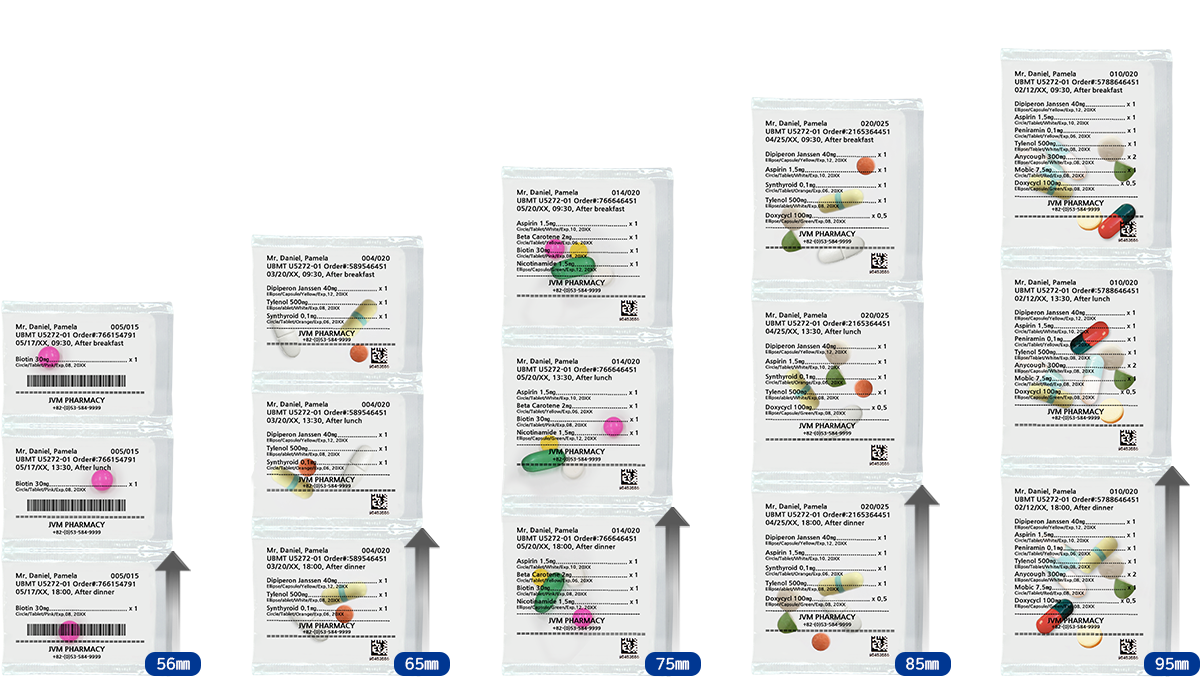 Networking with OCS
The ATDPS Server program can be connected with OCS or computer system at the hospital or pharmacy to share the prescription details shared in real time.
Received prescription details are then sent to ATDPS immediately to be ready for dispensing & packaging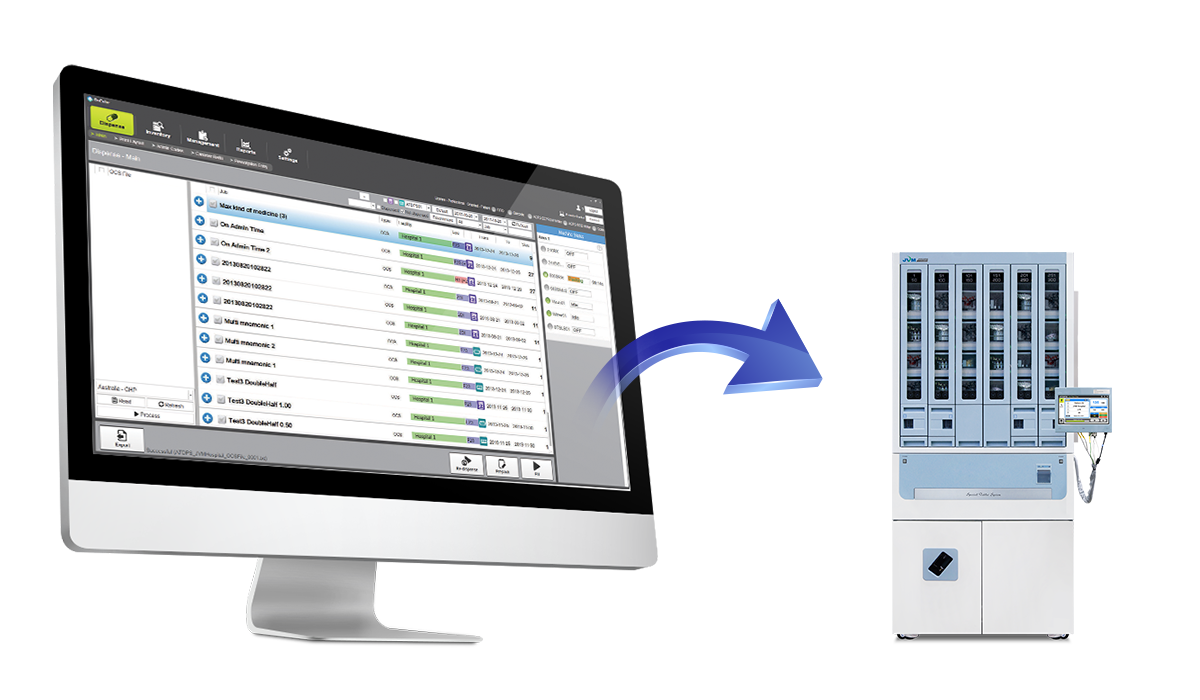 Automatic Canister Recognition System (ACRS)
An ACRS chip or RFID tag on each canister has a unique identification number assigned to support self-recognition of its location no matter where it is installed.
As a result, this product allows to track tablets, use tablets with nearing expiry date first, as well as to perform automated inventory control.

Automatic filling for halved tablets and tablets in special shapes
(Auto Canister)
You can use the auto canister to automatically dispense and package halved tablets and tablets in special shapes.
Each auto canister can accommodate up to 500 tablets at a time (when using 7 mm of round tablet).
This is especially useful for long-term patients whose prescription include halved tablets or tablets in special shapes.

Manual filling for halved tablets and tablets in special shapes (STS)
You can use the STS tray to manually dispense and package halved tablets and tablets in special shapes.
This is especially useful for packaging halved tablets or tablets in special shapes that are not used often.
In case of packaging for multiple patients, the LED indicator embedded in each cell is conveniently color-coded to help the operator drop correct tablets into each cell for the right patient.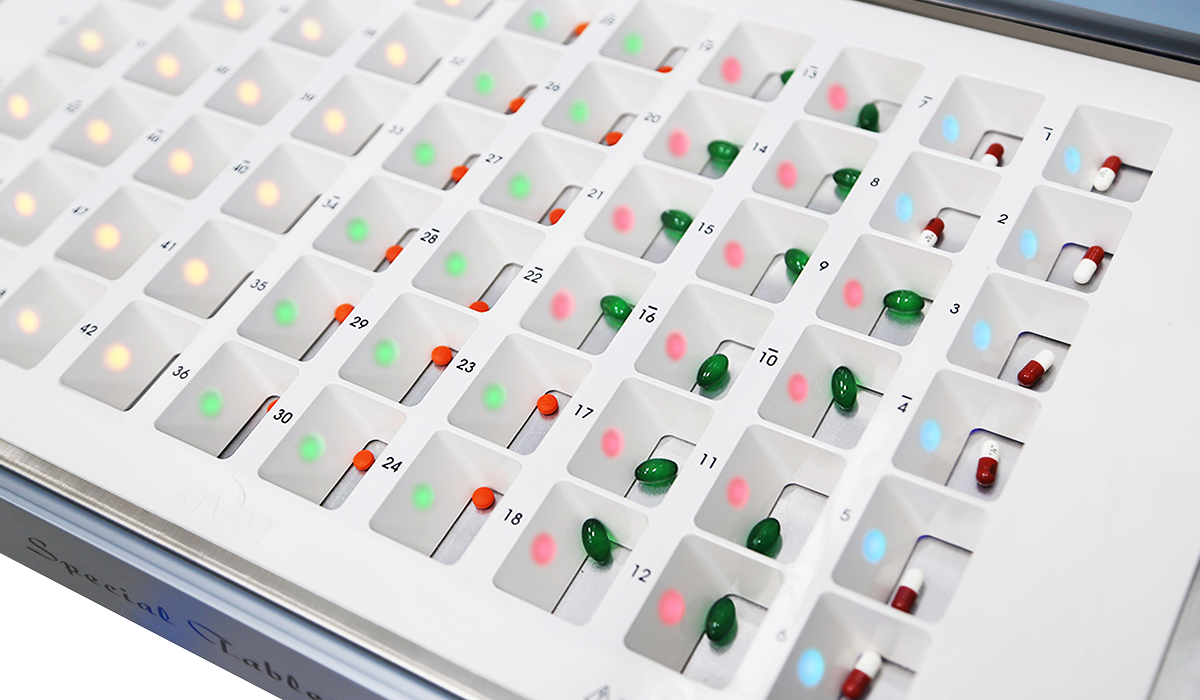 Separate packaging for incorrect tablets
After refilling tablets into a canister, the system displays alert notification on the touchscreen monitor when a faulty or mistakenly supplied tablets are detected.
These tablets with error are then packaged into separate pouches as defined by the user.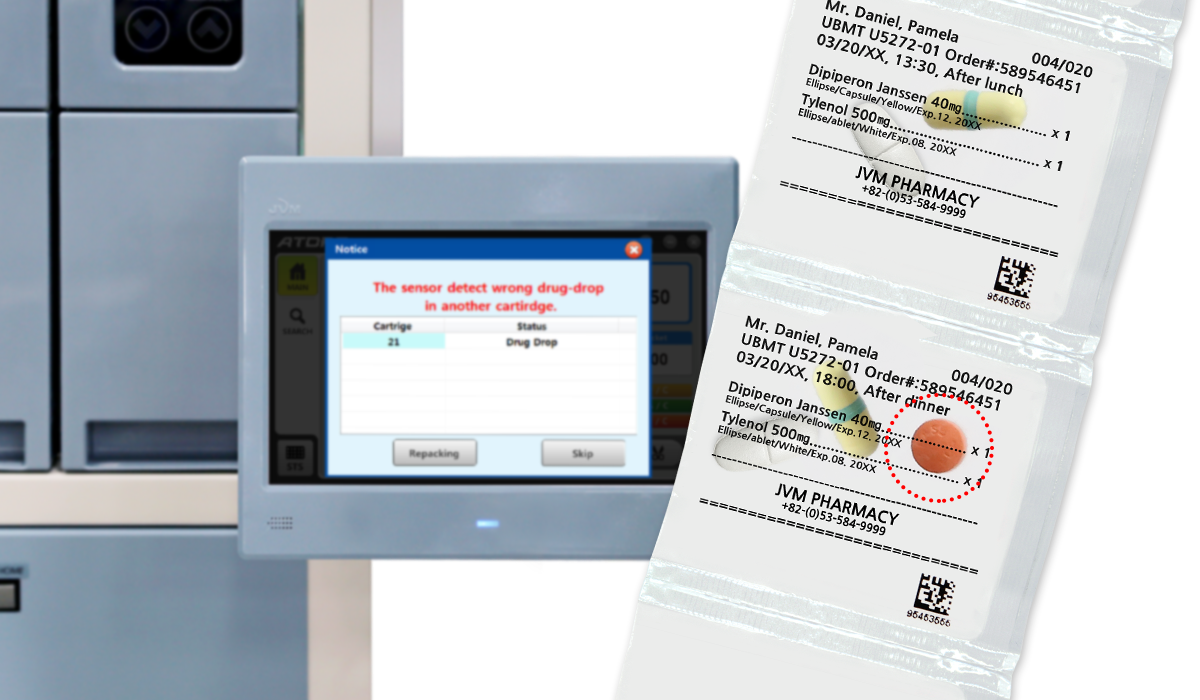 Barcode verification for safe medication management
Each canister has its own barcode to prevent potential errors of refilling unregistered tablets.
The added barcode is saved to the database to track the tablet usage history at any time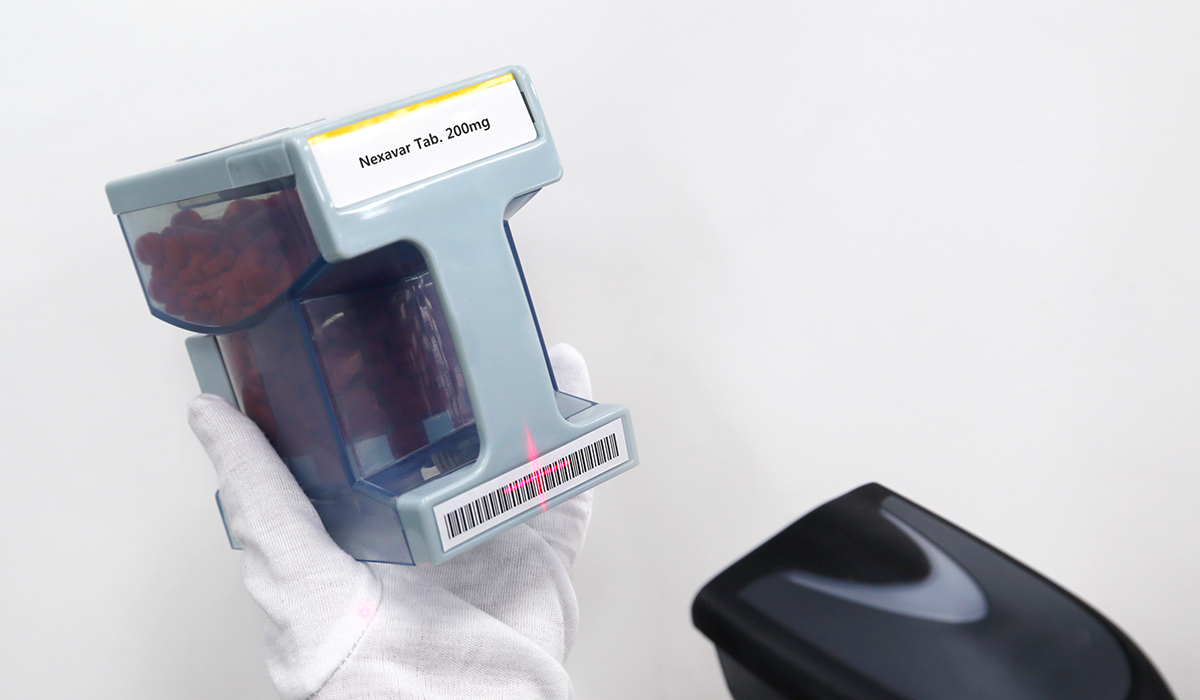 Customized pouch print layout
You can customize information to print on the pouch including medicine shape, color, texture, quantity, expiry date of each medicine, and barcode.
Also, it allows you to select a language to use and modify the print layout.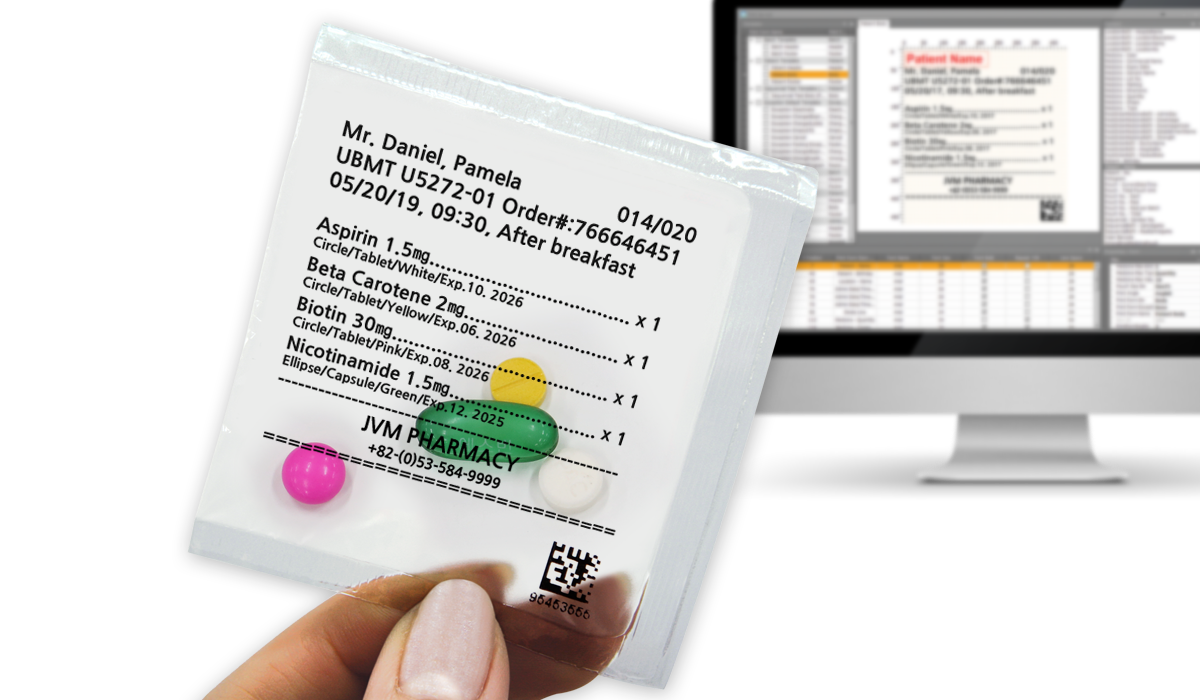 Swappable Main Frame
In case the main frame is faulty, you can immediately replace it with a new one to minimize downtime.
※ Main frame can be selected between swappable type and fixed type.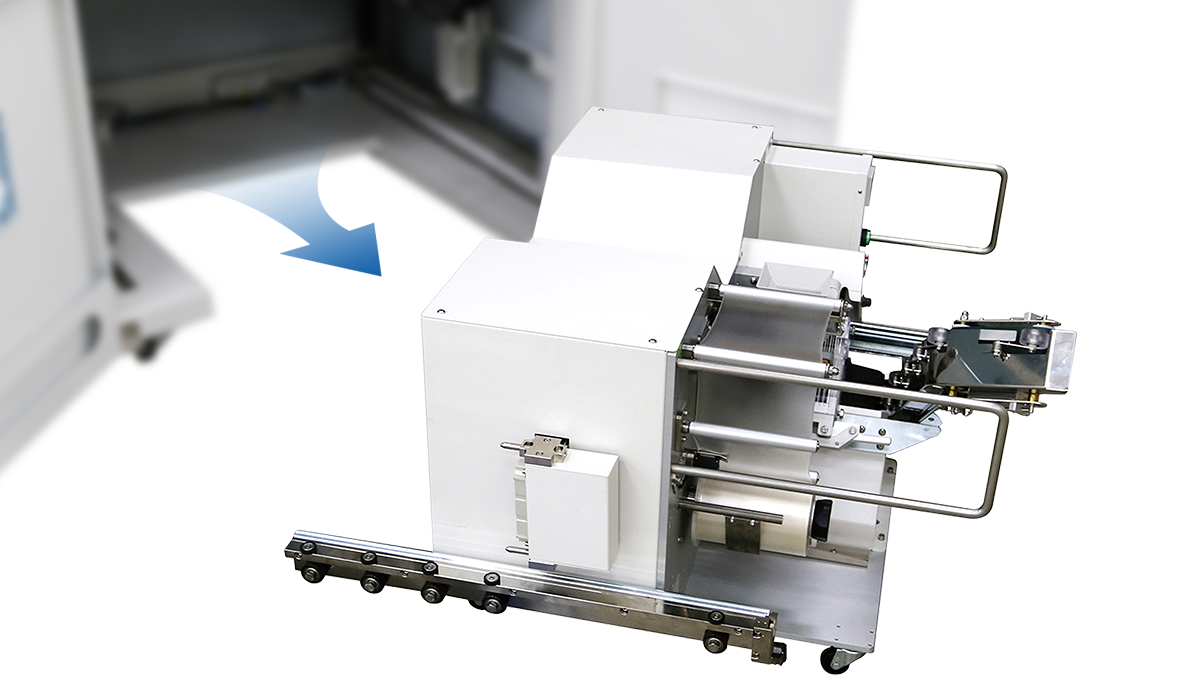 Easy-to-use touchscreen operation
The user can easily operate the system with the intuitive and easy-to-use touchscreen.
The sound and pop up notifications inform the user of the event even when the user is dealing with a different task.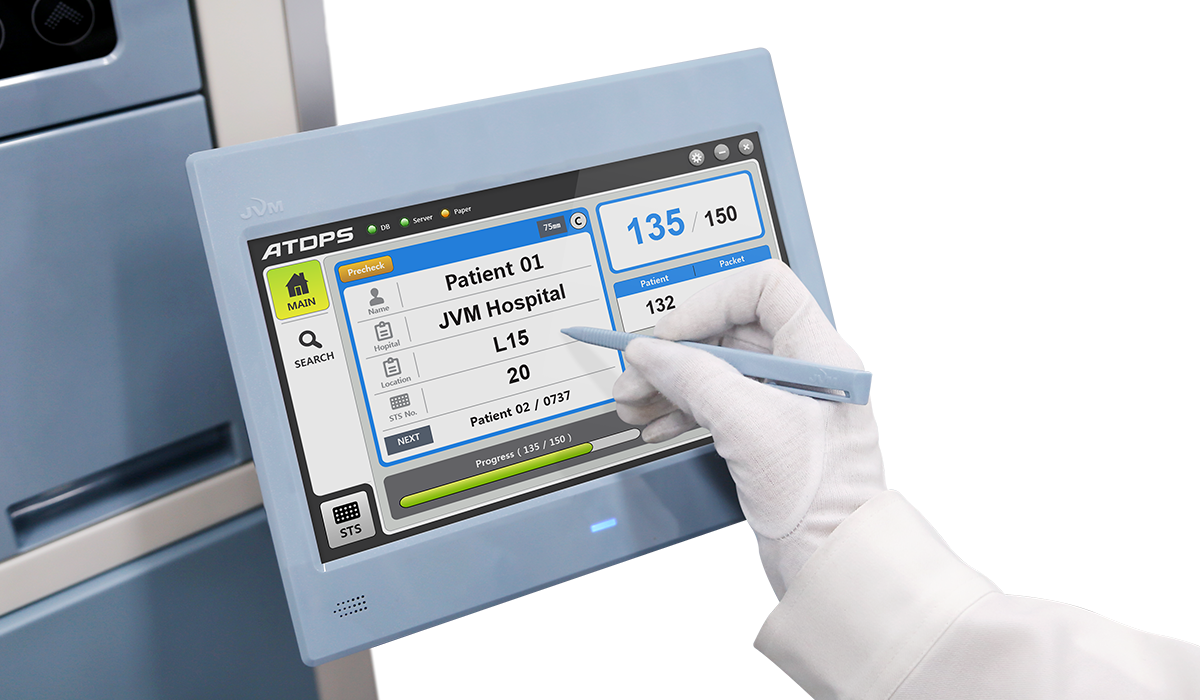 Convenient consumables replacement
Ribbon roll for the pouch printing is offered in a detachable cartridge format so anyone can replace it effortlessly.