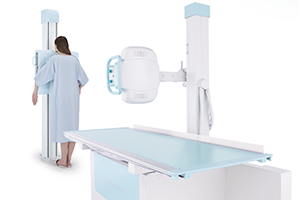 Fits Your All Needs for Ease of Use and Smart Operation
This radiography system integrates ease-of-use features from premium systems in a simple manner.
The system is equipped with a floating tabletop that can support up to 320 kg, and a detachable grid to reduce patient exposure. Furthermore, with its high image quality due to the large output power, and its simple operability, this radiography system provides a sense of ease and comfort unique to Shimadzu.
Offers Unimaginably Wide Radiographic Coverage Through a Combination
of Tabletop Movement and X-Ray Tube Support
Although the main unit is compact, the tabletop and X-ray tube can be moved freely over a wide range, for truly easy positioning.
Electromagnetic Lock System Offers Sure and Easy Positioning
Thanks to the one-touch electromagnetic lock system, making fine adjustments to the radiography position and securing it firmly, can be done easily and smoothly. The exposure field lamp lights up automatically during lateral movement of the table top to ensure correct positioning.
The All-Free Switch Enables Speedy Positioning
with Minimum Operations
To support speedy positioning, the system is equipped with an All-Free switch that allows you to freely move the X-ray tube vertically or laterally with a single touch.
X-ray Tube Arm Swivel Capability Supports Stretcher or
Wheelchair Examination
The X-ray tube arm can pivot 180° around the support column, so you can perform radiography with a stretcher or wheelchair along the far side of the tabletop. Radiography can be performed smoothly even during emergency transport. (Rotation is mechanically locked.)
Simple Operation with 432 Anatomical Programs
Radiographic conditions are easily configured, thanks to an extensive anatomical program system. The optimal radiography conditions can be configured quickly by combining the radiography technique with the anatomical region, the anatomical projection, and the body thickness.