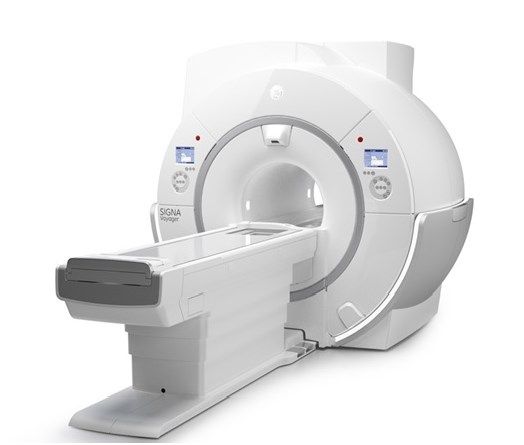 SIGNA™ Voyager
This system is designed to maximize productivity and workflow while delivering extraordinary clinical potential and exceptional patient comfort. And it has one of the smallest footprints and lowest power consumptions in the industry for a 1.5T wide bore system.
SIGNA™ Works AIR™ Edition includes:
™
– Automatic slice prescription for brain scans, with 5x faster set-up time and 4x fewer mouse clicks.
™
– Improve workflow and productivity up to 59% from plan to scan with automated coil selection and landmarking.
AIR™ Recon
– Cleaner, crisper images without having to overcompensate in your scanning protocol.
HyperMAVRIC SL
– Use with MAVRIC SL to accelerate scans around MR-Conditional implants.
Cube improvements
–Now includes T1 FLAIR and STIR contrasts.
MP-RAGE
– Improves gray/white matter contrast.
DISCO
– Drives temporal resolution in dynamic T1 imaging with expanded enhancements for quality and consistency.
MUSE and PROGRES
– Advanced applications available for purchase.
MAGiC (Magnetic Resonance Image Compilation)
Click here to discover the MAGiC Experience

For the first time ever in the industry, you can generate multiple image contrasts in a single MRI scan including T1, T2, STIR, T1 FLAIR, T2 FLAIR* and PD contrasts of the brain in a single acquisition.
One scan that can do the work of many, with images acquired in as little as half the time to acquire separate sequences, fully integrated in a seamless workflow.
*It is recommended to acquire conventional T2 FLAIR images in addition to MAGiC.
MAGiC
Complete flexibility for multiple contrast changes
You can change the contrast of the image by manipulating TR, TE and TI even after the scan is completed and the patient has exited the MR room. MAGiC processing will provide you any desired contrast paving the way to new diagnostic capabilities.

MAGiC even goes beyond standard MR weighted images by processing raw data into parametric T1, T2 and PD maps.
Technology
Outclass with exceptional image quality

Outstanding magnet homogeneity … Uncompromised performance
Whether it is leveraging a large, homogeneous FOV to visualize the entire abdominal cavity, or focusing on the smallest lesions in challenging areas of anatomy, the SIGNA Voyager delivers uncompromised results. Designed with one of the most homogeneous magnets in the industry, the SIGNA Voyager gives you the freedom to choose the appropriate field of view (FOV) for your imaging.
Total Digital Imaging RF Architecture … A total imaging win
Experience the unique advantages of Total Digital Imaging (TDI) with SIGNA Voyager. TDI helps deliver consistently sharper images than conventional MR systems with higher SNR, superior homogeneity and uniformity. TDI consists of 3 components;
Digital Surround Technology (DST) combines the superior SNR and sensitivity of the high-density surface coils with the superior homogeneity and deeper signal penetration of the integrated RF body coil, to deliver richer, sharper, higher quality images.
Direct Digital Interface (DDI) employs a separate analog-to-digital converter to capture and digitize every input from each of up to 65 RF channels, to vastly improve SNR.
eMode technology replaces analog blocking circuits with intelligent ultra-fast switches which further expand zero TE imaging capabilities.
Ultra-High Efficiency Gradient Technology
SIGNA Voyager includes novel Ultra High Efficiency (UHE) Gradient technology, a leap forward in the gradient technology curve, generating shorter TR and TE values to deliver speed and exceptional image quality.
Integrated TDI Coil Suite
GE's TDI Coil Suite delivers remarkable image quality with a patient-centered design set of coils. It includes embedded posterior array, high-density Head & Neck array, anterior array with extended anatomical coverage and other high-performing flexible and dedicated MSK coils.