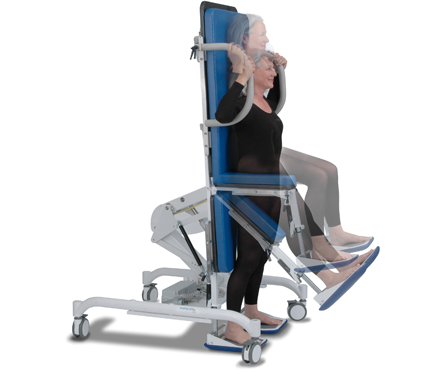 Features:
Positioning
• Three motors offer unparalleled positioning and access
options via a hand held control.
• Four double wheel rolling casters offer unencumbered
maneuverability.
• Versatile - eight positioning functions offer the physician
standing, seated and supine positioning capabilities.
Imaging
• The side mounted cantilevered design offers the
physician anterior / posterior, lateral and oblique views
without obstruction.
• Radiolucent carbon fiber seat and back for head-to-toe
imaging.
• Provide easier access to, and visualization of, the
perineal area.
Functionality
• Allow the patient to remain in one place for preparation,
filling, and voiding phases of the urodynamic test.
• Eliminate the risk of catheters falling out or getting
misplaced during transfer or ambulation.
• Is rated IPX6 "protection against water incursion"